xDay 2023 has been absolutely phenomenal. From the amount of progress that was showcased, to the ecosystem support received from global tech giants and the entire experience created by the 2,200+ unique participants and tens of partners. A turning point for everything MultiversX, and a strategic vision for the renaissance of European ambition.
All the moments, including those on the Innovation Stage, have been broadcasted live with a cumulative 8.5M views gained during the event. Watch them back on X and YouTube at any time:
YouTube (timestamps added to help navigate easier on topics of interest)
Main Stage: Day 1 - Day 2 (part 1 & part 2) - Day 3 (part 1 & part 2)
Innovation Stage: Day 1 - Day 2 - Day 3

Main Stage: Day 1 - Day 2 - Day 3
Innovation Stage: Day 1 - Day 2 - Day 3
If you prefer text format, check our 3-day recap of the main highlights below.
Network & components
Performance enhancements
Current stats: 6s blocktime, 30K TPS (10K per shard), 27-54s finality (including cross-shard transactions)
Next milestones: 1s blocktime, 100K+ TPS in the current setup with 3 shards (can go up to 250K if we also imply vertical scaling via hardware), 2s intra-shard finality, 4s cross-shard finality.
How do we get there: early block proposals (removing the confirmation block on the notarization chain while protecting against state reverts, parallel processing at the node level, and so on); parallel processing (pack more user interactions in less time so the actual overall maximum throughput of the network increases even with the shortening of the block time); consensus signature check improvements; dynamic gas cost; balanced data tries

Other noteworthy developments
Confidential transactions (ZK proofs & account abstraction); Staking V4 (Dynamic validator management); New relayed tx model (enables ESDT tokens to be used as gas); Multi-key nodes (brings lower infrastructure costs, enhanced redundancy and availability for validators), VM 1.5 upgrade; New VM implementation in K Framework; AsyncCalls V2 & V3; Managed Maps; Tracing Back-Transfers; storage mappers v2; universal testing syntax; meta-programming system; Wasmer 4 engine; Generalized Paymaster Contract.
Integrations and initiatives with big tech
Google Cloud: BigQuery integration; startup accelerator program; hackathons and dev initiatives; joint business developments such as the spotlight at Gitex Global
Tencent Cloud announced 1-click node deployment solution and $120K grant for Web3 game devs
Deutsche Telekom joined the ecosystem as staking provider and is already operating 7 validator nodes; co-exploration of integrating Web3 into their services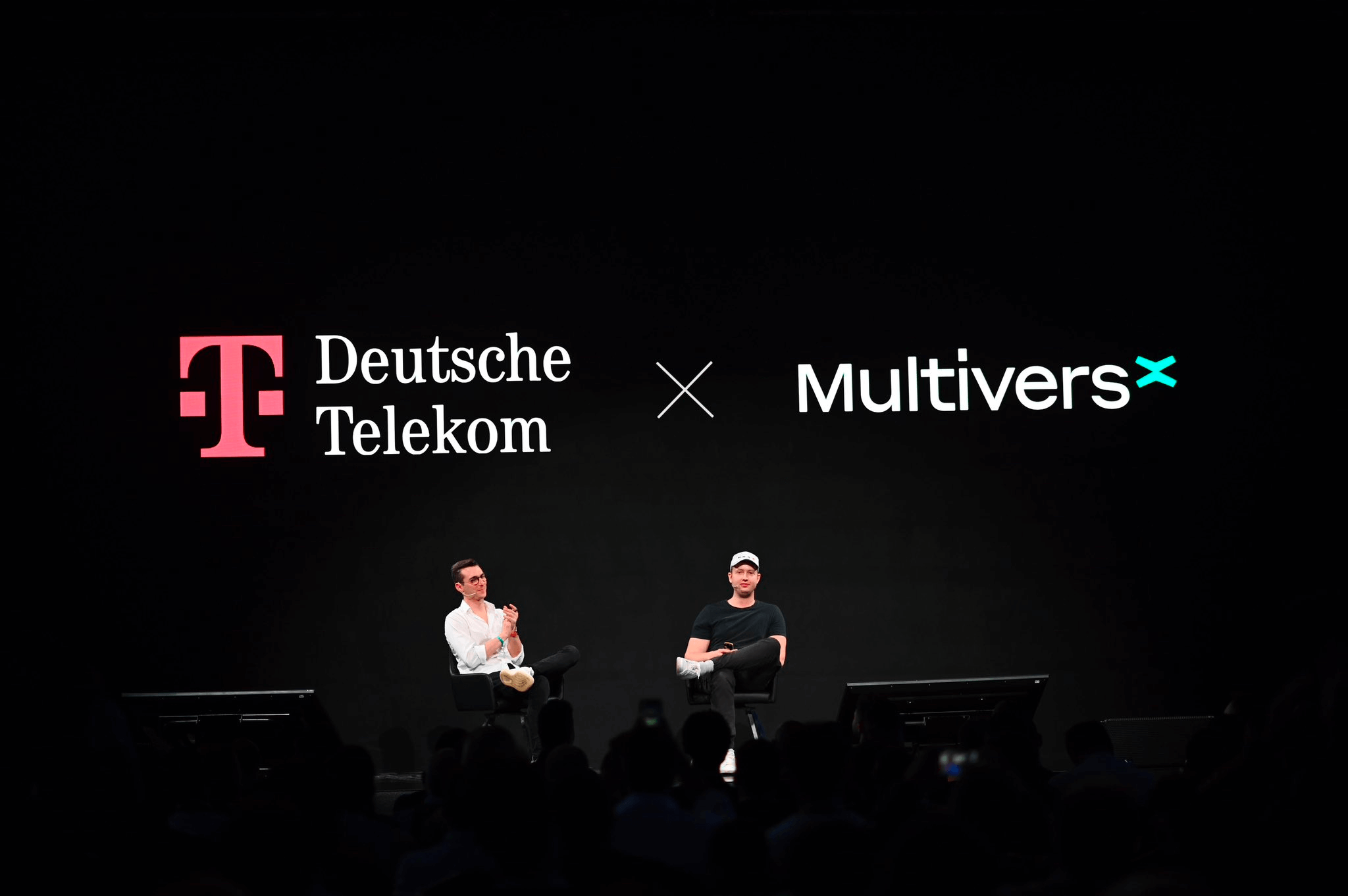 AWS: 1-click node deployment solution to be published on AWS Marketplace and support for Web3 startups
Other noteworthy developments
PI² Universal ZK Rollup on MultiversX by Runtime Verification. It will bring enshrined ZK proof verification on top of our protocol, making it possible for any state, any VM, any execution to be verifiable on-chain.
Axelar's interoperability network of over 50 chains will add MultiversX support (including for the app layer that enables cross-chain swaps and the interoperability dApp plugins)
SwingXYZ integration: Swaps capability between any token on EVM for any token on MultiversX and other cross-chain DeFi use cases.
Core products releases and updates

- xPortal (mobile app):
Already available or to be released soon: native on-ramp, first wave of xPortal Debit Cards to the public, an AR Treasure Hunt around Bucharest, cross-chain swaps, a GPT-4 based AI assistant, 3D avatars (hyper-realistic digital twins that can be teleported into AR and other digital worlds and experiences)
Scheduled to be released in late Q4 or early 2024: Multi-wallet support, Ledger support, P2P Fiat Payments, Multi-currency European IBANs, Premium debit cards & subscription plans, an Avatar Items Creator Marketplace (for 3D avatars) and an xPortal AR Game
- xExchange V3 (DeFi simplicity to the maximum): ongoing work to redesign 30+ components, develop 12 new contracts and bring new features and integrations; goal is to simplify every operation for users (e.g farming with one click), ease onboarding from external blockchains via gasless trades, and allow users to access DeFi opportunities in passive mode with auto claim rewards
- xFabric: private beta is live and allows creators, brands, companies, enterprises, government institutions to create and deploy Web3 websites without writing a single line of code. : tiered access with exclusive benefits; create & publish posts and manage community engagement; create and sell digital collectibles; create collectible media content; sell and oversee digital event tickets; tokenized shares; create and manage custom ESDT tokens.
- xAlias (LIVE): a Google Login powered single sign on solution for Web3. It enables blockchain powered solutions for users that don't yet know about blockchains or wallets. It's non custodial and claimable to be used in a "real" wallet like xPortal at a later point.
- Pathfinder: Web3 academy for developers, once completed they receive on-chain certificates which helps them access hackathons, grants, and so on.
- Kasmer in collaboration with Runtime Verification: a tool based on a rigorous formal semantics that provides property testing and verification for the MultiversX blockchain. Users write Rust tests that check if a property is true (e.g. whether the liquidity product is constant for an AMM when doing swaps) and Kasmer can both check it on random inputs and mathematically verify whether the property indeed holds.

- xAI (suite of AI tools that helps developers generate unit tests & integration tests for contracts, explain & review code and contracts, and GPT4 assistant trained with MultiversX technical documentation and community questions answered along the time)

xDay Hackathon overview
1,000 hackers, 150 projects, 70 nationalities, 41 judges, 29 Partners & Supporters.
Results of most awaited awards:
A few details on what they are bringing to MultiversX:

AI:
TKYC - AI-driven on-chain analysis and categorizing of wallet user types
Sensei - Ground-breaking gamification layer for existing Learning Management Systems
MxAI - A chatbot designed to provide an AI-driven interface that streamlines repetitive and time-consuming processes
Locki.io - A platform revolutionizing 3D design for artists and developers, redefining NFTs, introducing enriched online experiences, exclusive content access, dynamic updates, and parametric adjustments.
DeFi:
DeFi Builder - No-Code dApp Builder for token contracts and more
Savings+ by Autoscale - A decentralized savings account, designed to elevate the core features of traditional bank savings
Refracto - Real Estate DeFi solution, allowing users to finance quality real estate projects
TurboDeFi.io - A DeFi aggregator that offers a comprehensive view of various DeFi protocols, including lending, borrowing, yield farming, staking and liquidity provision
Infrastructure & Dev Tooling:
Spawnable - Dev tools for pushing code to GitHub and for generating UIs for SC
Calileo - Employing Itheum tech to create a visual tool that maps the intricate social connections among users, communities, and brands
Pulsar Wallet - Multi-chain compatibility, NFT interactions, and an integrated partner hub, the wallet seamlessly combines with partners such as Ashswap and Itheum
Decentralized Copyright Shield - Providing indisputable proof of content ownership, ensuring creators and artists control and protect their work from unauthorized use and theft
Payments:
CoinDrip - Real-time payment protocol providing a flexible and efficient system that allows users to schedule, collect, and access funds instantly.
xTwister - Separating deposit and withdrawal wallets, ensuring zero linkage.
Pulsar Money v2 - Enriching invoices, payment links, discord bot for payments and Pulsar pages spin on Patreon on chain.
Lunar Pay - A payment solution that enables businesses and individuals to improve their token operations and create various payment agreements.
Mobile Apps:
XOXNO - A fully mobile app that can interact with xPortal by connecting and signing transactions, creating native wallets and exploring the entire MultiversX NFT ecosystem.
GiveCup - A mobile app that aims to ensure every donation counts, while providing a rewarding and engaging user experience.
Gaupa Tracker - A consumer facing mobile app allowing consumers to verify the journey of the product they've purchased using blockchain as an immutable ledger.
Prime Wallet - A multichain wallet that allows the integration with MultiversX, and its tokens, permitting the wallet to connect from Prime dApp browser.
Gaming:
AI Nexus - A free and configurable virtual space and the first Metaverse blueprint for creators, advertisers and brands.
Gods of Fire by Dragons Arena - A multiplayer Play-to-Earn PC game, where players have true ownership of their in-game assets and earn $EGODS tokens.
Remotis -  Full control of a scale racing car, accelerating it around a real indoor circuit, all from the comfort of your computer.
The Cursed Land - A Massively Multiplayer Online Role-Playing Game developed for Android and iOS.
Ecosystem Progress
- Hatom - New products revealed, aiming to deepen ecosystem-wide liquidity: Hatom USD (USH) (a decentralized, over-collateralized stablecoin) and Soul (a protocol enabling cross-chain lending: provide collateral on MultiversX and take a loan on other networks).
- AshSwap - AshPerp, a Perpetual DEX with CEX-like features. Live on Devnet, Mainnet launch in December 2023.
- Itheum - 2 new products launched: NF-Tunes (a platform for music creators to own their work, with 4 musicians already confirmed) and Itheum Enterprise (a Data NFTs version tailored for enterprise usage in regulation-sensitive industries; already harnessed by Inspir3).
- Inspir3 - A platform redefining loyalty through cashback, reward points, discounts stored and traded safely on the MultiversX blockchain. Targeting Romanian market right at launch, with 12 partners already secured, including Starbucks, H&M, Decathlon, Carrefour, Kaufland, OMV.
- Cyberpunk City - Shared a video preview and more details of its upcoming Metaverse-based game.
- Sense4FIT - Presented its Fitnessverse vision, blending the best of Web2 and Web3 to redefine the wellness industry. 4 gyms with Web3 primitives are already open in Romania, serving 6K people. 5 countries to follow in 2024. 200+ pending requests from potential partners, target of 500+ open gyms by 2026, to serve 70K clients.
- ICI Bucharest - Announced new partnerships with Itheum and XOXNO. New NFT collections to be launched (Posta Romana, Radio Romania, Grammy Awards Winners). Focus on public-private collaborations.
- XOXNO - Upcoming milestones: Binance Pay integration by end of October; hybrid mode, focused on KYC-based use-cases; mobile app designed for onboarding users outside the blockchain space, featuring NFT tickets and a loyalty program.

- DX25 - Shared a long-term vision of disrupting the global $765 Trillion derivatives market. Tackling the complexity of building the tools on-chain to offer capital efficiency and more than 1,000x leverage, for MultiversX to become the blockchain of choice for derivatives trading. With the spot DEX recently launched on Mainnet, next steps include supporting partners' innovations, a Launchpad TGE and the launch of the derivatives platform by the end of 2024.
Entering A New Accelerated Phase

After years of making sure that the most advanced building blocks are all in place, xDay 2023 has emerged as a critical turning point, solidifying the MultiversX capabilities and setting the stage for impactful partnerships with major global tech giants. In front of an energized audience of 2,200+ participants, the team, the ecosystem and the partners have joined forces to deliver some of the most long-lasting updates in the blockchain space.