For a long time, the internet has been an inhabitable place for value representation. Without scarcity, there was no meaning to bring the economy into digital. That was until Web3 technologies came into play.
With unique properties that make them irreplicable, unforgeable and globally transferable, NFTs opened a new dimension for creators to tell their stories, one that focuses on the meaningful aspects of their role.
These properties have rapidly expanded beyond art, to new verticals and sectors, such as digital identity, data control and property deeds. Among all, at the core, the infrastructure that facilitated this rapid expansion has been - NFT Marketplaces.
Today we are highlighting the most innovative pioneers and the meaningful progress they've made over the past year. So let's dive into some of their most recent innovations, improvements & major shifts.
Frame It has undergone a significant facelift, with a design revamp that matches MultiversX's new identity. The marketplace now offers a custom feed, multiple buy options and a shopping cart that allows buyers to purchase multiple NFTs from all aggregated marketplaces and pay for all at once.
The platform's search functionality has also been improved, and users can track trading activity of their favorite collections. A "Follow collections" feature and a mint calendar have also been added to the platform, allowing users to explore NFT listings that interest them.
Formerly known as Trust Market, XOXNO faced a complete UX redesign. The platform features bulk buy options, a marketplace aggregator, staking mechanism, personalized feeds, complex analytics and real-time trades.
Users can make global offers, send DMs to wallets interested in trading and negotiate through the Live Chat feature, target multiple collections using the Deposit Pool feature and use FIAT payments to purchase NFTs.
A P2P swap, auctions and a dedicated Launchpad have been implemented, making XOXNO a true All-In-One NFT marketplace.
Deadrare NFT Marketplace has added several new features to improve user experience, including a new search bar, notifications, analytics, P2P swaps & a dynamic NFTs & staking system.
The platform now offers Discord bot connectivity, which allows users to keep up with their favorite collections on the go.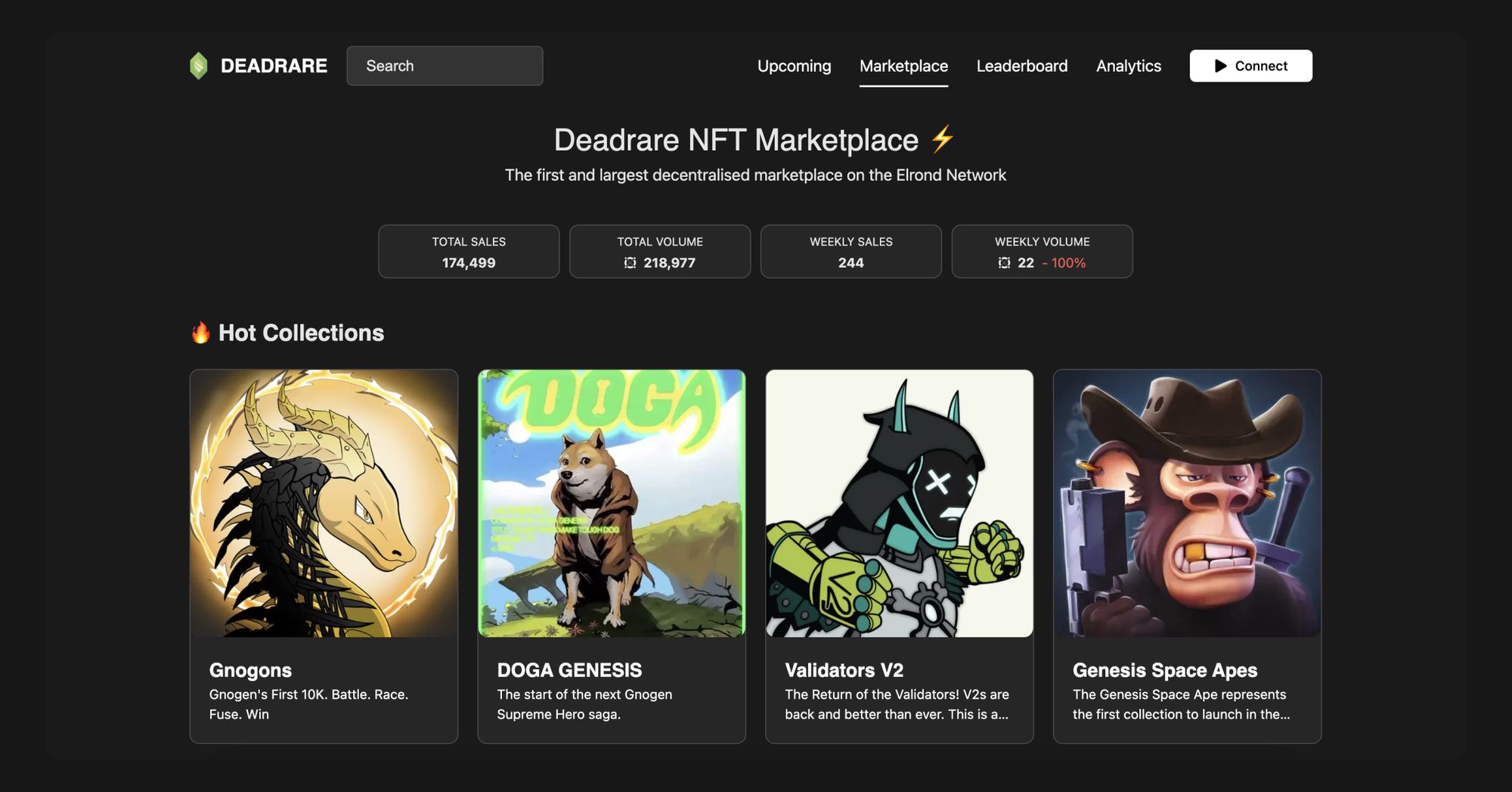 Eneftor NFT Marketplace has introduced a utility token, whitelist management, a launchpad, and a staking mechanism.
The platform also offers an ecosystem category, marketplace metrics and a KYC system for users who chose to participate in the platform's launchpad & discover new NFT projects.
Formerly known as Elrond NFT Swap, Krogan Swap NFT Marketplace has undergone a rebranding and now offers a pro swapper feature. The platform's upcoming Kroganverse allows users to interact with other NFT enthusiasts and make new connections.
ESDTs payments, lending, cashback events, NFT swaps, and newsletter have also been implemented.
Isengard, now known as Xengard, added several new features including analytics, launchpad, DAO and token games. Users can participate in the platform's token games to earn rewards.
NFTR NFT Marketplace has introduced dynamic royalties, collections ranking, filter by traits, real-time listings, and an improved UI/UX. The platform's launchpad allows users to discover new collections & explore new NFT products.
Rarity Market NFT Marketplace now offers a rarity creator, EGLD staking, and market activity tracking. Users can stake their EGLD tokens to earn rewards, while also tracking the latest NFT trends on the platform.
Though a newcomer on the MultiversX NFT scene but one of massive significance, the world's first state-governed NFT Marketplace ICI D Services couldn't have missed from this round up.
Featuring six initial collections developed by important institutional actors, the marketplace represents a powerful statement highlighting Romania's commitment to technological advancement and digital innovation.
Moving forward, the platform aims to bridge the gap between institutions and citizens through tokenizing elements in areas such as education, intellectual property, real estate, energy certificates, supply and distribution chains, art, fundraising, and many other fields suitable and ready to embark on this evolutionary journey.
Awesome to see the energy, the progress and the achievements across the ecosystem.
The NFT Marketplaces on MultiversX are constantly evolving and accelerating the momentum of an unprecedented Web3 creativity movement. Shifting the digital future towards creatives.